The Watergardens by UOL, Singapore Land and Kheng Leong
Your home within a water garden sanctuary.
Discover a Living, Layered Landscape with 3 thematic zones:
The Water, The Gardens and The Social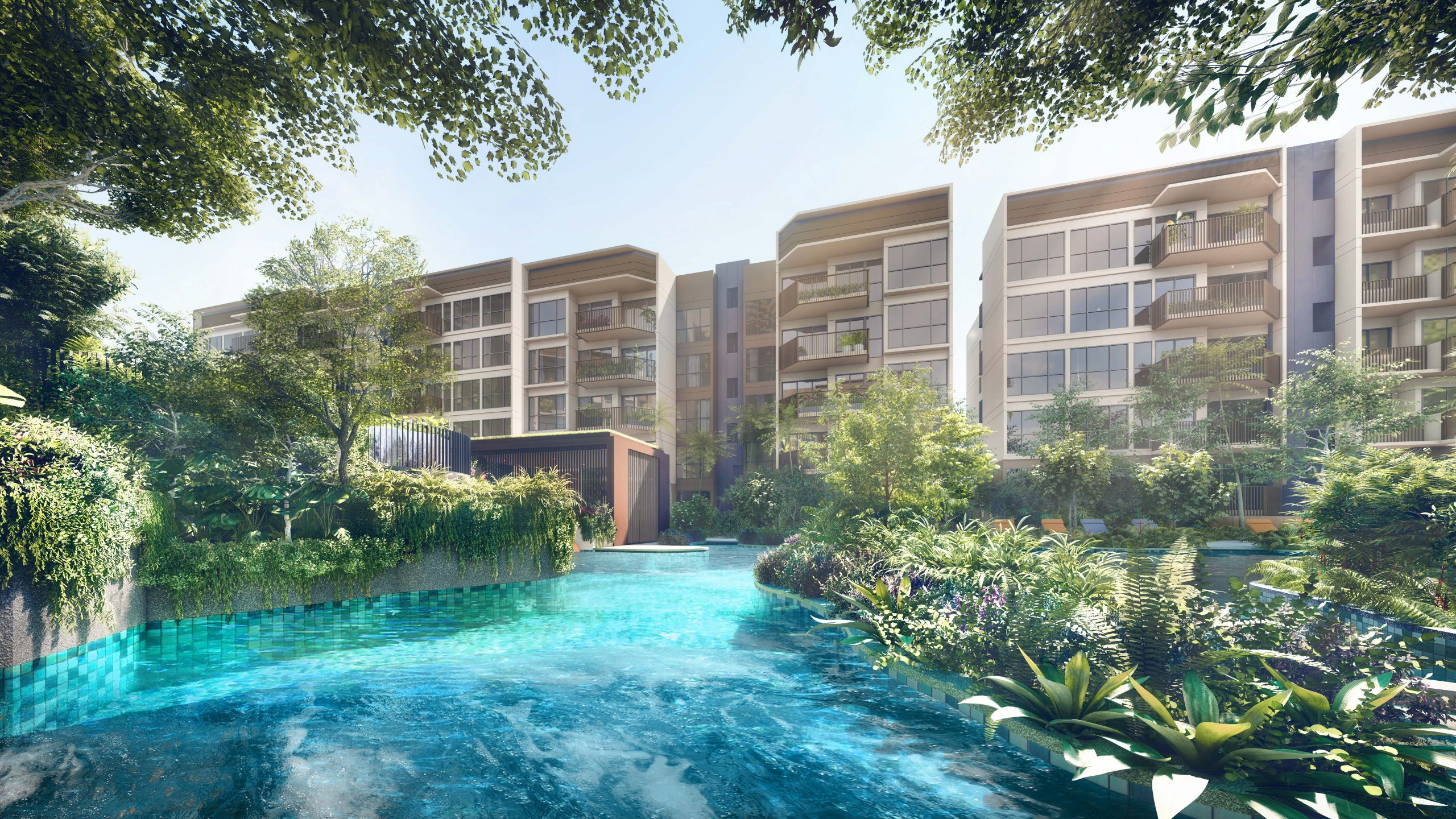 The Waterjet Terrace – Artist's Impression
The Watergardens at Canberra
Introduction:
The Watergardens at Canberra is a new residential development at Canberra Drive. It is developed by United Venture Development (2020) Pte Ltd, a joint venture between award winning UOL, Singland and Kheng Leong. It successfully bided for the land at URA Government Land Sale. Based on the project's permissible gross floor area of 415,412 square foot (38,593 square metres), the SGX-listed developer's bid equates to S$650 per square foot of housing – 3 percent below the S$670 per square foot predicted by Colliers prior to the announcement of the results.
It is envisaged as a home within a water garden sanctuary. It is stylishly crafted by renowned architect P&T Consultant, an award-winning, global design firm, providing clients with innovative, commercially successful and sustainable design solutions since its inception in 1868.
The Watergardens consists of 16 blocks of 5-storey well-appointed homes with 448 units of 2 to 4 bedroom types. Residents can expect a curated home, layered Landscape with 3 thematic zones –The Water, The Gardens and The Social. It integrates personal growth and wellness to create an energized and holistic environment for residents.
"We are pleased to be able to clinch Parcel B at Canberra Drive," said UOL Group's CEO Liam Wee Sin. "Being the larger of the two sites, this site gives us the opportunity to create an exciting product with about 450 units that is within walking distance to the newly opened Canberra MRT." – UOL Group CEO, Liam Wee Sin.
In fact, Mr Liam expects the site to attract "healthy demand from the large catchment of owner-occupiers and potential HDB upgraders due to the increasing popularity of Canberra as a new integrated estate".
" The group expects new private home sales to remain resilient but uneven, with stronger demand for smaller units and in the upgrader market. Additionally, it expects rising construction costs due to manpower shortage and safe-distancing measures on-site." – EdgeProp
https://www.edgeprop.sg/property-news/uol-launch-canberra-drive-project-2q-redevelop-faber-house-and-enhance-odeon-towers
Developer
United Venture Development (2020) Pte Ltd
Tenure
99 Years commencing on 8 June 2020
Description
Proposed residential flat development comprising 16 blocks of 5-storey building (total 448 units) with 1 childcare centre and 1 level of basement carparks, swimming pool and communal facilities
Address
27-57 Canberra Drive
Site Area
296,722sqft
Plot Ratio
1.4
Total Units

448 residential car park lots and 4 accessible lots

12 childcare centrecar park lots and 1 accessible lot

Expected date of Notice Of Vacant Possession
30 June 2026
Expected Legal Completion Date
30 June 2029
Architect
P & T Consultants Pte Ltd
Interior Design
Index Design Pte Ltd,Creative Mind Design
Landscape Consultant
SitetectonixPrivate Limited (STX)
Main Contractor
United Tec Construction
The Watergardens has excellent connectivity being located right at the doorstep of Canberra MRT Station (NS12), about 200m walk. Woodlands Regional Centre is nearby and within easy access via bus and MRT. It is also well connected to major arterial roads and expressways such as Seletar Expressway and the New North-South Corridor.
A myriad of amenities is within easy reached including Sembawang Shopping Centre, Northpoint City and Sunway.  Recreational parks includes Jalan Kemuning Park and Jalan Sendudok Park. Other Nearby amenities include Bukit Canberra, an integrated sports and community hub that will be fully opened in 2021.
The Watergardens by UOL – Gallery
Timeless Architecture Meets Nature
Freehold Bukit Timah Property From $8XXK Only
Early Birds Specials For VVIP: 1Bedroom+Study From $8XXk, 2Bedroom From $1.0xmln Only.
| | | |
| --- | --- | --- |
| Unit Types | Size (sq ft) | No of units |
| 2 Bedroom | 646-678 | 80 |
| 2 Bedroom Premium | 721-753 | 119 |
| 2 Bedroom Premium + Study | 797 | 20 |
| 3 Bedroom | 904-958 | 94 |
| 3 Bedroom + Study | 1012 | 10 |
| 3 Bedroom Premium + Study | 1109 | 65 |
| 4 Bedroom Premium | 1302 | 60 |
| | Total | 448 |
The Watergardens by UOL – Showflat Location
The Watergardens Showflat is located beside Sembawang Bus Interchange. See Showflat Location Map Below:
The Watergardens at Canberra  – Preview Timeline –
Registration of Interest
Register via this website for your preferred time slot. First come first serves basis.
Showflat Preview Begins
For pre-registered VVIP Only
Opens from 10am to 8pm Daily. Safe distancing measures apply. Subject to group capacity.
Early Bird Discounts for VVIP with successful submission of complete documentation. Mode of sale will be announced in due course.
Open to public. Showflat viewing by appointment only.
Register As VVIP
Our sales representative will get in touch with you to book your showflat viewing appointments.
Showflat Location: 
Sembawang Vista (Behind Sembawang Bus Intechange)
* NOTE: Upon submitting this form, permission is given for UOL Group Ltd and their permitted agents to Call, SMS, Whatsapp or Email you on information and updates pertaining to The Watergardens.
The Watergardens is proudly developed by:
DISCLAIMER:
While every reasonable care has been taken in preparing this wedsite, neither the Developer nor its agents will be held responsible for any inaccuracies or omissions. Visual representations, models, showflat displays and illustrations, photographs, art renderings and other graphic representations and references are intended to portray only artistic impressions of the development and décor and cannot be regarded as representations of fact. All areas and other measurements are approximate measurements and are subject to final survey. The development is subject to final inspection by the relevant authorities to comply with the current codes of practice. All information, specifications, renderings, visual representations and plans are current at the time of publication and are subject to change as may be required by the Developer and/or the relevant authorities. All statements are believed to be correct but shall not be regarded as statements or representations of fact. All plans and models are not to scale unless expressly stated and are subject to any amendments which are required or approved by the relevant authorities. The Sale and Purchase Agreement shall form the entire agreement between the Developer and the Purchaser and shall supersede all statements, representations or promises made prior to the signing of the Sale and Purchase Agreement and shall in no way be modified by any statements, representations or promises made by the Developer or its agents, which are not embodied in the Sale and Purchase Agreement.
The reader relies on the information provided herein at his/her own risk. Any information you may find in this website may be invalid over time, or inaccurate due to human error. The reader should carefully and independently consider and assess the merits and suitability of the information obtained, the investment objective, risk involved and affordability, before committing to buying any property or any investment.
Direct Property Links:
The Gazania Freehold D19 – Bartley MRT TOP Soon: www.the-gazania-lilium.sg Freehold D20, Lentor Modern At Lentor Central Launching 2022, Piccadilly Grand At Northumberland Road www.thepiccadillygrand.com.sg Launching 2022, www.lentormodern.com, The Lilium, Freehold D19 – Bartley MRT TOP Soon: www.the-gazania-lilium.sg, Canninghill Piers By Capitaland & CDL 99Y D06 , The AMO Residences, www.canninghillpiers-launch.sg, The Water Gardens 99Y – Canberra MRTwww.uol-watergardens.sg, Leedon Green Freehold D10 – Farrer Road MRTwww.leedongreen-mcl.com.sg, Midtown Modern 99Y D07 – Bugis MRTwww.guocoland-midtownmodern.com , One Bernam 99Y D02 – Tanjong Pagar MRTwww.01bernam.sg, Ki Residences – Brookvale Landed Enclave  www.kiresidences-brookvale.com.sg, Other Property New Launch: www.propertypro.com.sg, Property Market & New Launch, www.wikiproperty.com.sg, AMO Residence, AMO UOL, Meyer House, UOL Homes, UOL Residences, UOL AMK Ave 1, UOL, Propertyguru, Singapore Property, Property, AMO Residence, Lentor Hills, Lentor Modern, Lentor Guocoland, Guocoland,LentorHIlls, Watten Estate, Watten Estate UOL, Pine Grove UOL, Pine Grove Condo, Amo Residences,